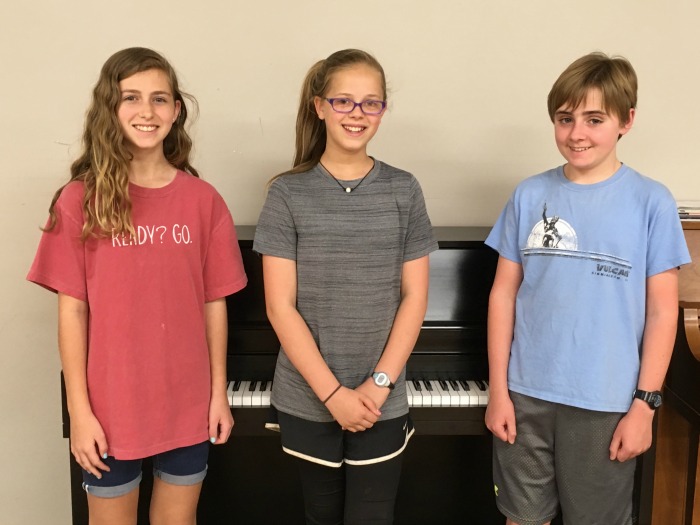 Congratulations to AMTA Piano Students
Congratulations to piano students Allie Patrick, McKaime Patrick, and Carlton Wallwork. Dawson Music Academy proudly recognizes these students for their participation in the 2017 Alabama Music Teacher's Association (AMTA) District Auditions. Each of these musicians take private lessons with Misti Short at Dawson Music Academy.
To prepare for AMTA District Piano Auditions, students learned and memorized three pieces of contrasting musical styles. Students focused on rhythmic accuracy, solid technique, and expressive playing as they prepared their selections. In addition to their performance selections, students also prepared a Theory Component for the Audition. The Theory Component included scales, arpeggios, cadences, and inversions.
In April, Allie, McKaime, and Carlton attended District Auditions. Each student played performance selections and theory components for an AMTA Judge. After listening to the student play, the Judge offered feedback about the student's performance. All students received the highest grade, Outstanding, in at least one of the categories. Carlton Wallwork received the opportunity to play his performance selections for the AMTA State Piano Auditions held at the University of Alabama in Tuscaloosa. At the State Auditions, Carlton received an Outstanding rating for his performance.
By participating in AMTA District Piano Auditions, students improved their musicianship and developed new technical skills. They devoted weekly practice time to polishing their music and improving their technique. We are extremely proud of these students for their musical talents and for the hard work they invested to prepare for AMTA District Piano Auditions!
Contributor Kimberly Jones is a wife, mother, and the Director of the Dawson Music Academy at the Dawson Family of Faith.