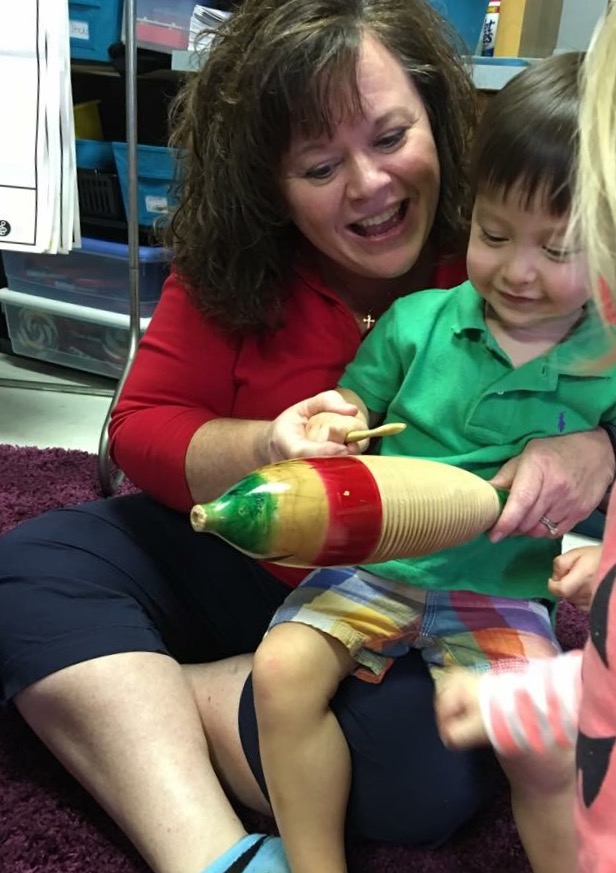 Kindermusik
It is never too early to begin your child's musical education. That's one reason we've partnered with Kindermusik, to give your child an excellent start to their music journey. In each class, your child will participate in music-and-movement activities that enhance their cognitive, language, physical, creative and social/emotional development. Classes are available for babies, toddlers, big kids, and families. Kindermusik is led by Michele Mulder, an award-winning Kindermusik instructor.
From Michele
The highlight of my week is teaching Kindermusik classes. Each class brings great joy to me and the participants in the class. Kindermusik provides one of the best ways to share the wonderful gift of music with young children and their parents. In each class, we explore music in a new way. We listen, sing, and move to different songs that help us appreciate a variety of musical styles. From nursery rhymes to classical music, we interact with music and add our own creative twist of motions or simple instrument accompaniment.
I have been blessed to share my passion for music with young children and their parents through weekly Kindermusik classes for over 10 years. Recently, I was named Kindermusik Maestro by Kindermusik International for exceptional service and was recognized as having one of the top programs in the world. Additionally, I was honored to receive the "2016 Favorite Parent Child Class in Birmingham" by Birmingham Parent Magazine.
In addition to being a certified Kindermusik teacher, I also hold degrees in Piano Performance and Music Education. I have taught music in a variety of settings, including public/private schools, private piano lessons, and church choirs. When I am not teaching Kindermusik, I enjoy spending time with my husband, Troy, and two sons, Micah and Chad.
Contact information
Cell: 205-568-6702
Email: kmwithmichele@gmail.com
Website for registration: www.kmwithmichele.com
No Events