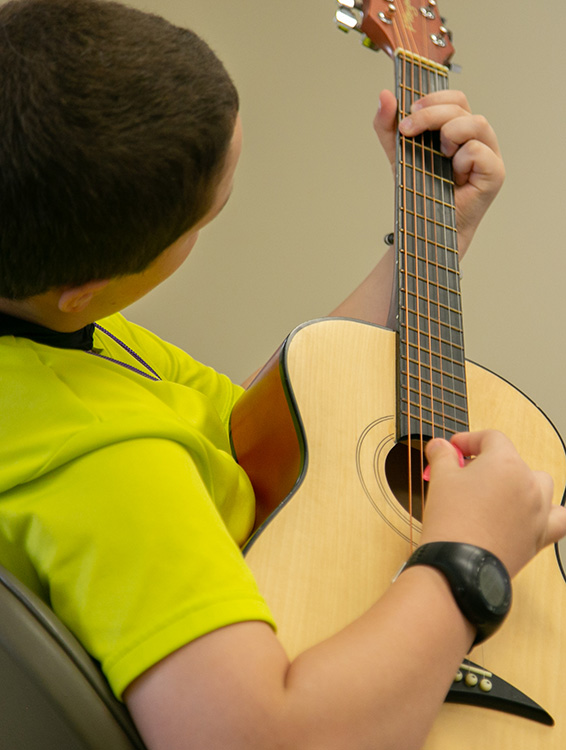 5 Ways to Choose the Right Guitar
Let's be honest: all musicians want to sound great when they play, right? Well, even the best musician doesn't sound great when playing on a less-than-stellar instrument. And not sounding great takes some of the fun out of performing. In fact, some instruments can actually hinder student success. If the instrument isn't built correctly or if it doesn't hold tune the way it should, students become easily frustrated. Choosing the right instrument provides great rewards for students, performers, and also listeners. Check out these tips to help you choose the instrument that's the right fit for you! You'll be glad you did!
Instrument Quality
There's a wide rang of acoustic guitar options from which to choose. Several factors impact the sound of the guitar: brand of guitar, nylon or steel strings,  and the style of the guitar. Some acoustic guitar players may want the option to "plug in" to a sound system to play with a band or amplify their sound. If that's your goal, it's important to consider purchasing a guitar with a pickup system. When choosing a guitar for beginning students, it's important to confirm the guitar is a true musical instrument; not just a "toy guitar" that young kids use for "pretend music." Since "toy guitars" aren't built with the same specifications as true guitars, students will get frustrated trying to play real chords and real music on them.
Affordable Pricing
Although playing on a quality instrument is important, you don't have to spend a fortune (unless you want to). A quality beginning instrument usually starts around $75. For more advanced instruments, you can spend upwards of $1,000. There are quality instruments available at a variety of different price points, so choose the option that works best for you. Regardless of your price point, check to be sure it's a quality instrument that produces good tones and provides ease of playing for the student. Often times, student's needs and musical goals change over time. It's great to know that choosing an instrument isn't a lifetime commitment.  Students can change instruments whenever needed along the way.
Appropriate Sizing
Did you know there are several different sizes of guitars? For students to experience success, their arms should be able to hold the guitar comfortably while also reaching their hand around the neck of the guitar to form chord shapes. If the guitar is too big, students won't be able to physically hold the guitar without tiring out early in the playing process. If it's too small, students may develop bad habits that hinder their musical success. Since a child's size varies widely by age groups, it's typically best to visit a store that has samples for the prospective student to hold to see what is most comfortable. Here's a general size guide by age:
1/2 size : 5-8 years
3/4 size : 8-12 years
Full size: 12 years & up
For teenagers and adult students, there's a choice between a small body guitar or a full size guitar. Either works well to produce quality music, so select the option that's most comfortable for you to play.
Important Accessories
Purchasing a guitar case is one of the best investments you will make! Whether you choose a soft cover case or hard case, it's important to provide protection for your instrument when you transport it. There are several different styles of cases. Some include shoulder straps, backpack-style straps, or regular handle-carrying style. Choose your favorite option and you'll enjoy the ease of carrying around your instrument. Other helpful accessories for acoustic guitar students are tuners, capos, and guitar pics. While there's several tuning apps that can be used for tuning, many musicians prefer the ease of keeping a tuner in your guitar case and ready to go.
Instrument Suggestions
There's definitely no "one size fits all" guitar option. Take some time to explore several options and find the best fit for you and your playing style. For beginner students, several students experience success with these styles and models:
Recommended Resources
There are many great options for purchasing quality guitars. While it's impossible to list all of them, here's a few places you may want to explore as you find the best option to meet your needs.
*Bailey Brothers: 4673 Hwy 280, Birmingham, AL 35242, 205-271-7827
*Guitar Center:  694 Montgomery Hwy, Hoover, AL 35216, 205-824-6454
*Musician's Friend: Online Store; musiciansfriend.com; 800-449-9128
*Sweetwater Music: Online Store; sweetwater.com, 800-222-4700
Contributor Sandy Lawrence is a guitarist, educator, and song-writer. She's played a variety of guitar brands and styles. She enjoys helping students find the guitar that's right for their musical goals.