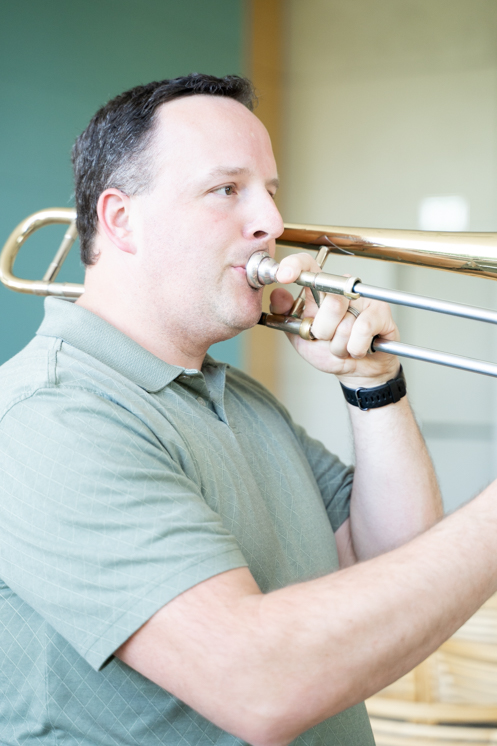 Dan Mullis
Bachelor of Music
Belmont University
Master of Worship Studies
Robert E. Webber Institute of Worship Studies
My favorite thing about teaching is seeing a student "get it." That moment when they have worked hard to learn a technique, expand their register or learn a new melody…they smile real big, their confidence grows and they get excited about learning the next thing. There's something amazing that happens as they celebrate their new musical accomplishment.
In weekly lessons, I incorporate a variety of musical styles. I encourage students to find songs that they enjoy playing. Playing music takes effort but should also be fun! When learning new songs, we focus on good tone quality, proper breathing, and solid technique. I like to see my students practice technique and then apply it to music they enjoy playing so they can produce the best sound possible. Since many of my students play in the band at school, I focus on skills that support their school band experiences.
I have the privilege of serving as the Associate Music & Worship Minister for the Dawson Family of Faith, leading a variety of instrumental and choral ensembles in worship and special ministry projects. My passion in ministry is to encourage and equip musicians to connect to God's story and mission wherever they are given the opportunity.
In my own life, one of my favorite things about playing trombone is the many opportunities it has given me to connect with other musicians. I have been able to play with so many musicians across the USA and multiple countries. At times if I had trouble speaking with someone due to a language barrier, we could still sit down and play music together. It can be unifying often when nothing else seems to work. I love sharing the gospel through music around the world.
As part of sharing my love for music with the community, I enjoy working with middle school and high school student ensembles. I have coached various trombone and brass students and ensembles, including the Jazz Band at Homewood High School. As a musician myself, I have enjoyed the opportunity to play with notable ensembles and artists such as Christafari, Don Moen, Ron Kenoly, Jonathan Pierce, Taylor, Truth, Pat Bennett, Travis Cottrell and was a founding member of Denver & the Mile High Orchestra. Whether playing my trombone, directing an ensemble, or teaching a private lesson, I enjoy sharing the gift of music with others.