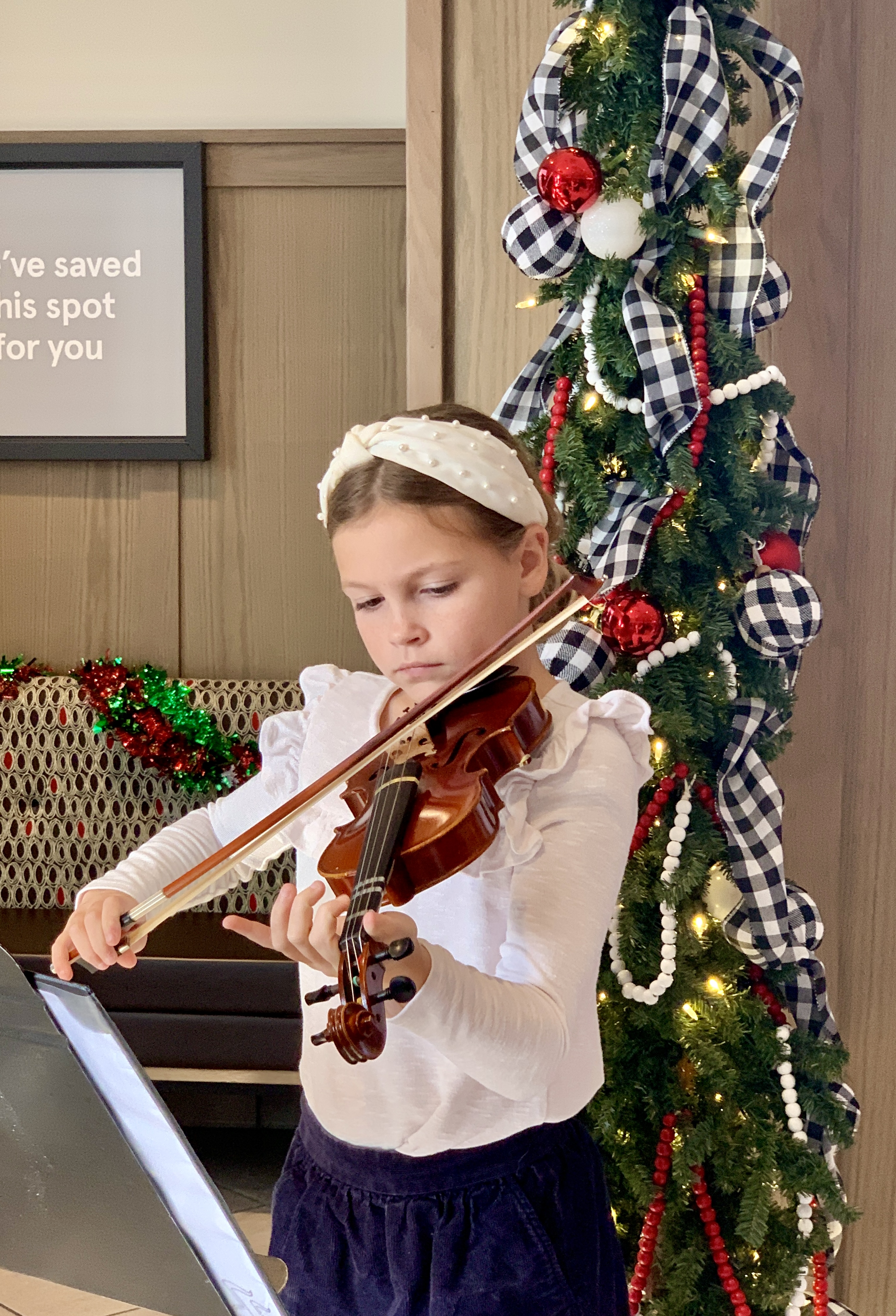 DMA Students Share Christmas Joy
We all have a favorite Christmas song-a song that encourages us, reminds us of fond memories, and brings a big smile to our faces. There's something powerful about music that ministers to our spirits in ways we can't describe. That's why the students and instructors of Dawson Music Academy decided to share music with our community this Christmas.
Over the past month, eighty-two students shared Christmas songs with our community. Several students shared Sunday mornings in December through Dawson's Music on the Patio. Other students share at Retirement Communities. Each student who shared music invested time to prepare their pieces and joyfully played their songs to spread the sounds of the season. Several students joined together to play or sing in groups. Many students played duets with siblings or with their instructor.
A special thanks to the Wildwood Chick-fil-A for welcoming the Academy students to share Christmas carols. Several of our students played music during the Breakfast with Santa time. It was exciting to hear the wide variety of Christmas selections; from "Jingle Bells" to "Blue Christmas" to "Silent Night." Christmas music joyfully resonated as students played their violins, pianos, saxophones, harps, and several other instruments.
We believe one of the best ways to share the joy of Christmas is through Christmas music. That's why many of our students, from ages 4 to 62 years old, took their talents to the community this year. It was wonderful to watch smiles appear on faces all over our community as people listened to students play and sing.
It's a privilege to share the good news of Christmas through music! The best Christmas gift was given to us many years ago. In Luke 2:10, we are told "Today, in the town of David a Savior has been born to you; he is the Messiah, the Lord." We hope the joy of Christmas-the gift of baby Jesus-fills your heart this season.
Contributor Kimberly Jones is a mother, wife, and the Director of the Dawson Music Academy at the Dawson Family of Faith.