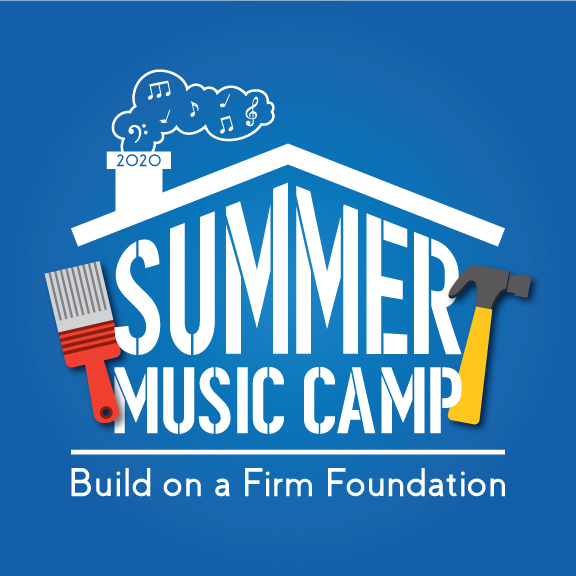 Online Summer Music Camp 2020
We hope you will join us July 13-17, 2020 for Dawson Music Academy's Online Summer Music Camp. Summer Music Camp has turned inside-out this year. Instead of connecting in-person at Dawson's campus, campers enjoy a week's worth of musical fun at their own pace from their own home. From Meet the Instrument Sessions to Worship Rally songs to constructing musical instruments to creating craft projects, each day will be filled with new and exciting adventures. To see why kids (and moms) enjoy Online Music Camp, click here.
Through a variety of musical experiences and hands-on activities, music campers transform into construction workers and designers who are learning to "Build on a Firm Foundation." During the week prior to camp, campers will receive their "Construction Tools" (5-gallon camp supply bucket overflowing with supplies,  activities, and directions for at-home musical experiences). Campers who are new to music will enjoy building a strong musical foundation through fun-filled camp activities. Campers who have previous musical experience will receive "Expert-Builder" daily challenges that allow them to take their musical experiences to a deeper level.
Each morning, from Monday, July 13 through Friday, July 17, campers will receive a video from the Construction Project Manager who will share the Construction Zone projects for the day, which utilize the "Construction Tools" (materials inside the camp supply bucket).
Daily camp videos (5 videos total, each video approximately 45 minutes in length) are designed to engage children's creative interests while also providing interactive musical activities. Similar to our in-person music camps, each camp activity allows campers to experience first hand the excitement and joy of music. Daily camp videos include Meet the Instrument Sessions, interactive musical activities, Worship Rally songs, and Bible story time. Each day, a special guest musician will visit the construction site as campers get a first-hand glimpse into playing a new instrument.
In addition to the camp experiences listed above, campers have the option to extend their camp experience to include Instrument Exploration. With this option, campers explore the instrument of their choice (guitar, piano, percussion, ukulele, violin, or voice) by connecting daily for a 30-minute private lesson with a talented camp instructor on Monday-Thursday. Camp instructors will connect with campers using the video conferencing platform that is most convenient for the camper (Zoom, FaceTime, Skype, etc.). On Friday, all campers in the Exploratory Track will participate in a Virtual Recital to share their talents.
Children do not have to be students of the Dawson Music Academy to enjoy Online Summer Music Camp. Camp activities are designed to engage children who have completed Kindergarten-5th grade, however other ages are welcome to participate as well. Whether campers are new to music or have played an instrument for years, they will enjoy a camp experience that allows their inner talent to shine!