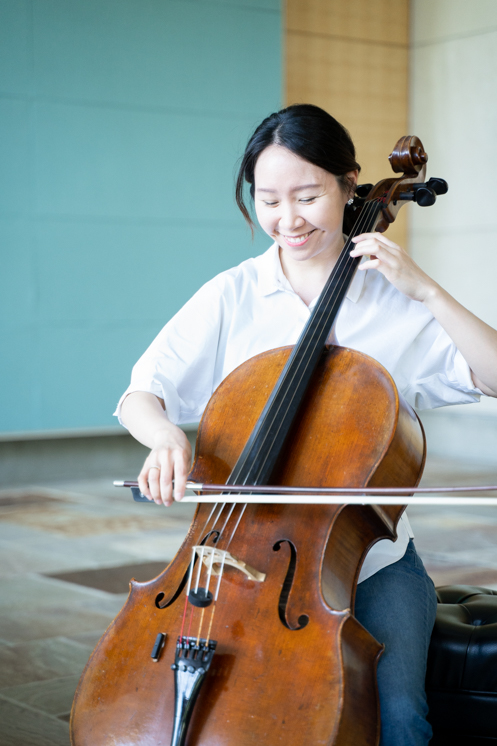 Yeonwoo Seo
Master of Music in Performance & Literature
Eastman School of Music, University of Rochester
Bachelor of Music in Performance & Literature
Eastman School of Music, University of Rochester
Doctor of Musical Arts in Performance & Literature
University of Illinois
My favorite thing about teaching is helping each student discover his/her unique sound. The beautiful, rich tone of the cello adapts to each individual's technique. As my students learn to create sounds that reflect their own personal styles, music comes to life.
In weekly lessons, I incorporate a variety of techniques to help my students meet their goals. I utilize Suzuki methods when appropriate, and also supplement with other resources. To help students progress, I frequently encourage them to suggest songs that they are interested in learning. One of my favorite teaching strategies is to break down a difficult song into "bite-sized" pieces to help students master important concepts in an engaging way. As we learn new songs, I encourage students to have patience with themselves as they experiment with new skills. Becoming a proficient musician requires practice, patience, and time. As students make progress towards their musical goals, we celebrate their accomplishments and hard work along the way.
In addition to teaching, I am actively involved in a variety of ensemble settings. Some of my favorite musical experiences include playing with the Illinois Symphony Orchestra and Estampe Trio, who regularly gives outreach/educational concerts in many different cities. Recently, I served as an adjunct professor at The University of Illinois, Springfield and as a teaching assistant at The Eastman School of Music. Teaching music and playing cello are two of my greatest passions, and I enjoy sharing my love of music with students of all ages at Dawson Music Academy.