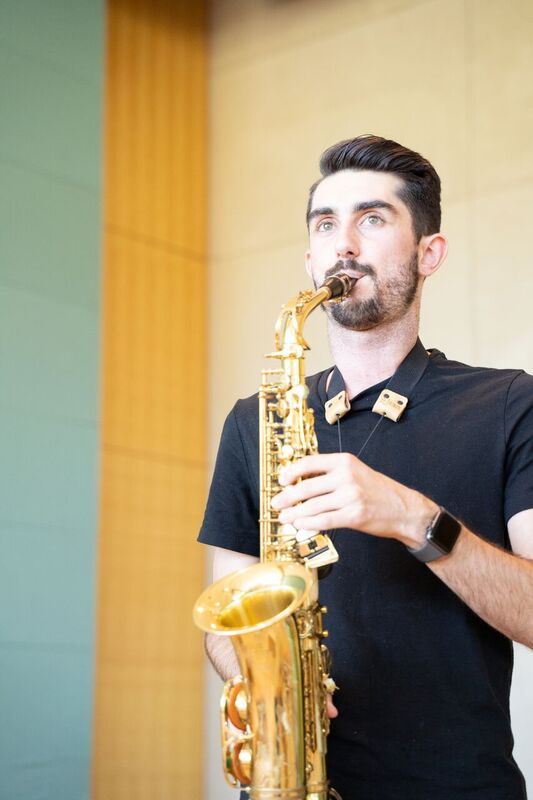 Kevin James
Bachelor of Music in Composition
Samford University
The saxophone is perhaps the most versatile and vocally expressive of the woodwind instruments. Once you gain a certain confidence with it, it really becomes an extension of yourself. It is an avenue and means by which you can express almost anything you're feeling. Blessed, worshipful, excited, overjoyed, sad, angry, homesick, heartsick…whatever you're feeling, there's a way to express it on your instrument.
The saxophone is one of my favorite ways to engage with the world around me, and I enjoy adapting music to various settings. With jazz music, I find a special freedom in improvisation. With worship music, I am able to connect with our Creator. With classical music, I embrace the structure and purpose of the notes and chords. At an early age, the unique sounds of music captured my attention. I began writing music that reflected the sounds of my experiences. In the past two years, I have recorded numerous projects, including my own single, Melt My Heart, and album, It Was Worth It.
I enjoy teaching because it provides an opportunity for me to share my passion for music with my students. In weekly lessons, I focus on important fundamentals such as breath support, theory, and technique. As we have time, we also incorporate ear training and improvisational skills. I work with students to select songs that help them progress towards their musical goals. We regularly explore classical selections, etudes, and exercises to build necessary skills for musical proficiency. One of my favorite things about teaching is watching a student make a significant breakthrough in musicianship.
As a musician, I enjoy playing in a variety of ensembles: worship teams, orchestral settings, jazz bands, and marching bands. Additionally, I serve as the worship leader of the Petros service at First Baptist Church of Pell City. I am also always writing music. Whatever the avenue, making music remains central to what I enjoy most.