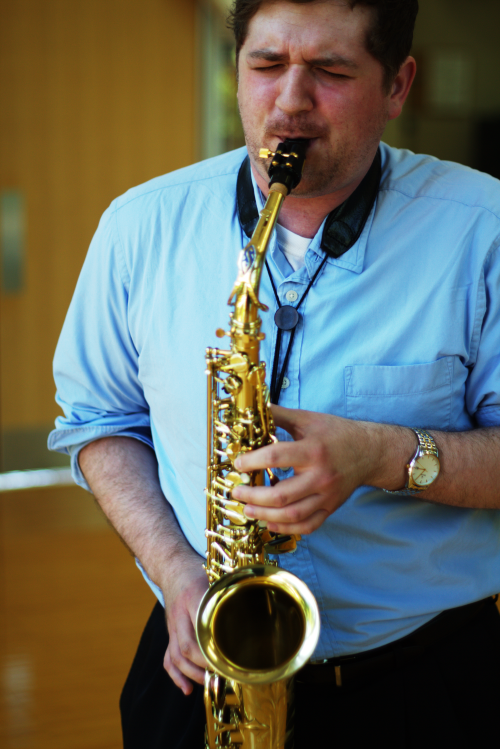 Chris Brown
Bachelor of Music in Saxophone Performance
University of North Carolina School of the Arts
The saxophone is perhaps the most versatile and vocally expressive of the woodwind instruments. Once you gain a certain confidence with it, it really becomes an extension of yourself. It is an avenue and means by which you can express almost anything you're feeling. Blessed, worshipful, excited, overjoyed, sad, angry, homesick, heartsick…whatever you're feeling, there's a way to express it on your horn.
My favorite genre of music is jazz because it provides musicians a canvas for creative expression.  It is a complex genre of music that allows musicians to build their own unique musical vocabulary in order to express their own musical voice. Even as a classically-trained saxophonist, I am deeply inspired by jazz players and strive to incorporate their insights into my teaching and playing
The saxophone is my way of expressing myself. I began taking private saxophone lessons as a sophomore in high school. While in high school, I studied at the University of North Carolina School of the Arts. I pursued my passion for music in college and earned a Bachelor of Music in Saxophone Performance. I have enjoyed the privilege of collaborating with various artists and ensembles, including the Winston Salem Symphony Orchestra and hip-hop artist Masta Artisan. I enjoy playing with various university bands, including the Samford Wind and Jazz Ensembles, as well as sharing music in church settings.
I enjoy teaching because it provides an opportunity for me to share my passion for music with my students.  Watching a student suddenly make a breakthrough in his/her playing is exciting and rewarding. I appreciate the opportunity to help students develop their talents and explore the power of music.