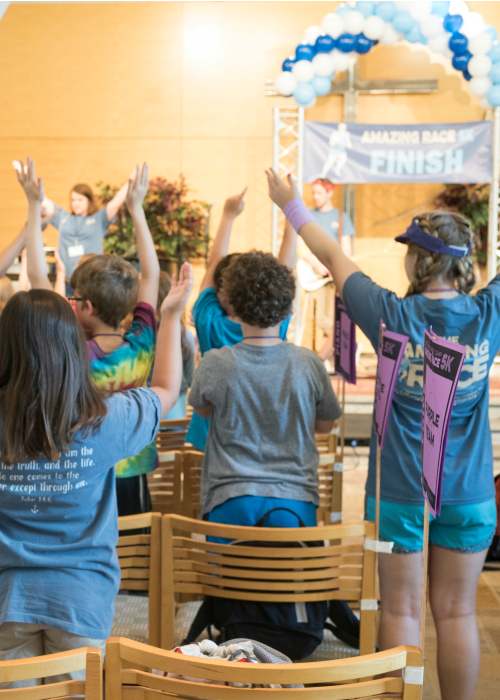 8 Summer Camp Highlights
As summer draws to a close, we're celebrating our favorite memories. Summer Music Camp was definitely a highlight at Dawson Music Academy this summer. When we asked campers their favorite parts of music camp, we discovered the following highlights.
The Amazing Race
This year, campers explored "The Amazing Race." Campers participated in relay races during Opening and Closing Rally. From individual races to relay races to partner races, everyone had a chance to show their racing skills. Through various music activities, we explored racing with different speeds of music such as Adagio, Andante, and Allegro.
Worship Rally
During Worship Rally, campers enjoyed praising God with our theme song "Running." This song reflected our camp theme verse: "Let us run with perseverance the race marked out for us, fixing our eyes on Jesus, the pioneer and perfecter of our faith." Hebrews 12:1-2
Play It!
During instrument time, campers joined with other children who had similar musical experience as them. In addition to learning new songs, campers also learned how to play with other musicians. At Friday's Recital Celebration, it was impressive to hear the progress students made after just five days of camp!
Note It!
To help campers expand their note-reading skills, they participated in "Note It!" Activities in this rotation helped students learn to read music. The favorite activity of the week was the human-sized musical staff that allowed students to race to the top of the staff based on their assigned note names.
Beat It!
Rhythm exploration, or "Beat It!," provided the opportunity for campers to learn different rhythms. The highlight of this class was Friday's Drum Circle. Percussion expert Walker Wright led campers as they played 10 different types of drums.
Spirit Day
There were six teams at camp, each represented by a different color. On Wednesday, campers displayed their team spirit by wearing team colors, painting their faces, and creating team cheers. On Spirit Day, the Orange Team showed the most spirit and received the Spirit Stick Award.
Water Day
What's the best way to enjoy the heat of summer? Water Day! On Thursday, campers played water games. From the Slip N Slide to water blasters, there was water everywhere. Campers, counselors, and adults had a blast playing a variety of silly games.
Recital Day
The final celebration of Music Camp was Recital Day. Each instrument class received the spotlight as they shared what they learned during the week. Additionally, all campers joined together to play the camp song, "I'll Run the Race." It was truly amazing to listen to all campers join together to share their talents.
Thanks for a terrific Music Camp 2017! We enjoyed celebrating music with you. We're already looking forward to Music Camp 2018 (July 16-20). Hope to see you next summer!
Contributor Kimberly Jones is a wife, mother, and the Director of the Dawson Music Academy at the Dawson Family of Faith.