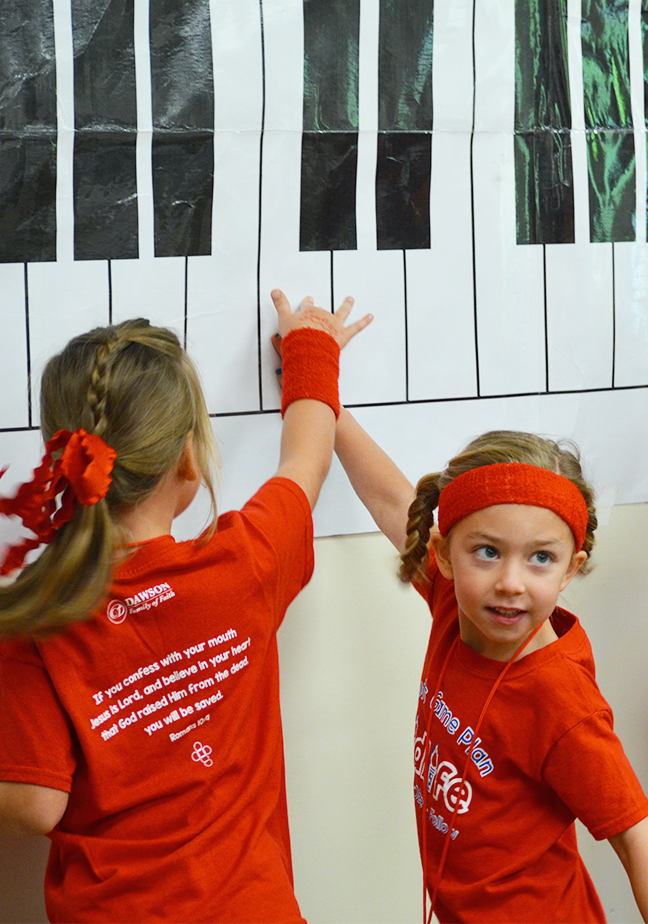 Summer Music Camp 2018
We hope you will join us July 16-20, 2018 for Dawson Music Academy's Summer Music Camp. This is a fun-filled week of exploring music, making friends, and celebrating Jesus.
Our Summer Music Camp is open to children who are 4 years old ­­through 5th grade. Preschool and elementary campers enjoy a variety of activities including instrument exploration, worship rally, and recreation. Whether children are new to music or have played an instrument for years, they will enjoy a camp experience tailor made for them. Campers participate in kid-friendly activities that engage their specific interests. In addition to gaining new musical knowledge, campers will have fun with music exploration, team spirit activities, water day, and much more.
Preschool Music Camp is from 9:00-1:00 each day, Monday through Thursday. Preschoolers who are age 4 by September 1, 2018 are invited to participate. The cost for camp registration is $100. Preschool camp rotations include "Meet the Instrument," Music & Movement Time, Worship Time, Recreation Time, and Craft Time.
Elementary campers can select regular camp hours from 9:00-3:00 ($200) or extended camp hours from 7:30-5:30 ($250). All students who have completed Kindergarten through 5th Grade are welcome, regardless of level and years of experience. Camp rotations include Instrument Exploration, Worship Rally, Rhythmic Beats, as well as Art and Recreation Electives. As campers explore music, they'll also enjoy Team Spirit Day, Water Day, and other activities that enhance the camp experience.
Elementary campers participate in small group sessions with other students of similar skill levels to explore the instrument of their choice (guitar, harp, piano, percussion, ukulele, violin, or voice). In addition to focusing on a primary instrument, our music campers participate in fun and interactive large group activities. During registration, beginner musicians who do not own an instrument can reserve an instrument to use during camp. Children do not have to be students of the Dawson Music Academy to attend Summer Music Camp.