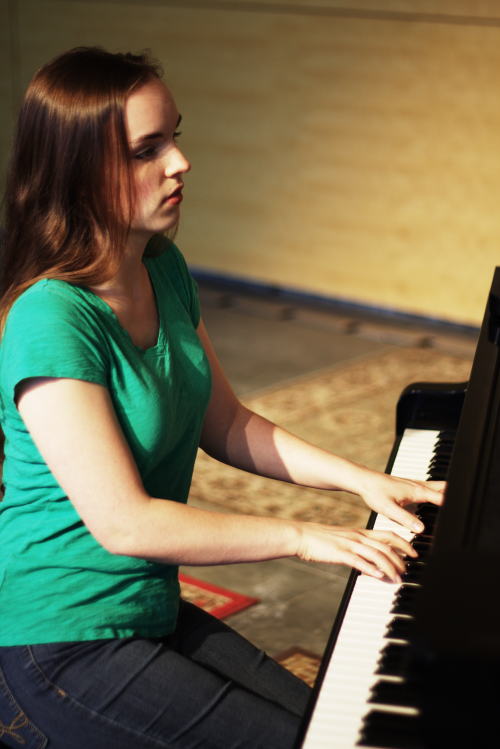 Christina Lewis
Bachelor of Music in Piano Performance
Samford University
My favorite aspect of teaching is the privilege I have to inspire and encourage a love of music in others. I like to see my students grow in their love of music. I encourage students to be creative as they express themselves through music. It's exciting to watch them gain confidence in their own creativity.
I enjoy a variety of musical styles. Specifically, I appreciate the structure, intricate detail and artistry involved in studying and performing classical music. However, I love listening to worship music because it directly sings praise through instruments, voices and words to the One who gave us the gift of music.
As a teacher, I enjoy teaching students of varying levels, ranging from complete beginners to those who are advanced pianists. In weekly lessons, I utilize an organized, goal-oriented approach to learning and refining piano skills. I desire to provide opportunities to enhance students' musicality, technique, theoretical knowledge and music reading abilities. By helping students set weekly practice goals, I also encourage students to build time-management skills and discipline. My desire is to help students glorify God through both their individual talents and the incredible gift of music.
I enjoy performing and sharing my musical talents in a variety of piano competitions. I have received honors in the Alabama Music Teacher's Association Solo competition, the Elbert Lingo Keyboard Artist competition, the Southern Division Representative for Alabama in the Music Teacher's National Association in Senior Piano Duets and various other piano competitions throughout the years. I have also participated in master classes with Van Cliburn Medalist and Eastman School of Music professor, Dr. Barry Snyder; Composer, Author, Teacher and Professor of piano at New York University, Dr. Seymour Bernstein; Publisher, Pianist and Teacher at The New School for Music Study, Dr. Marvin R. Blickenstaff; and Pianist and Professor of Music Theory at The Juilliard School, Dr. Michael Shinn. I have been privileged to study with Mrs. Harriet Westbrook, Dr. Kevin Chance and Dr. Ronald Shinn.